Click Here To Check Out Website Packages
Is your website losing you
clients?
57% of internet users say they won't recommend a business with a poorly designed website on mobile
You only get one chance to make a first impression and we can know your website will attract local customers when working with us.


Websites need to be both beautiful and functional and our websites are both.
If your site does not properly convey your brand, services, products and calls to action it is no better than a printed brochure sitting in a draw.
We can make sure this does not happen by leveraging our website build best practices gained through years of experience and 1000s of sites.
https://wiredbyteit.com/website-design/website-as-a-service-waas/

What does it all mean?
Your website is a magnet for judgement—and this judgement isn't limited to the website itself—it carries over into the way users perceive the company as a whole.
A bad website can tarnish a company's credibility significantly—but a quality website can help a company extend its sphere of influence and create leads.
Responsive web design also plays a massive role in this. If a user has to pinch to zoom in and out on your website, there's a good chance they will just leave instead.
For you, the difference between these two outcomes could be as simple as making adjustments that change the way users perceive your website the first time they interact with it.
Website first impressions matter. Make them count.
85% of adults think that a company's website when viewed on a mobile device should be as good or better than its desktop website.
Basic Website
6 pages (5 standard pages, plus any optional page of your choices

Color scheme customized to match

icon links to you social media

One-click phone number so mobile visitors can call you directly

Billed to any major credit card
Intermediate
8 Pages (5 Standard pages, plus any 3 optional pages of your choice

All features from Basic Website Package

Optional Video Headed Design

Google Business Listing Optimization with logo and photos

Billed to any major credit card
Professional
10 Pages (5 Standard pages, plus any 3 optional pages of your choice

All features from Intermediate Website Package

Slide-in animated elements

Social Media channel optimization (Facebook, Twitter and/or Instagram)

Email Newsletter Pop-up Subscription Form

Billed to any major credit card
available from 10:00 – 19:00
Address 3212 River Rd, Frankfort, MI, 49635
Email contact@company.com
You need a fully-integrated, mobile-ready website or you have no chance to achieve the growth
Your Website:

The Foundation For Building A Robust Marketing Plan If you already have a website, its critical that its works as hard as you do to grow your business.

Our websites are mobile ready and designed for speed, capturing visitor information, communication hub

There's no substitute for a fully integrated website mobile ready website. Get started today to start designing the website of your dreams yourself, or have our experts do it for you. Plans & Pricing Plus, explore free account tools. No credit card required.



From Setup To Service We Look After Everything
All of the costs of your website are wrapped into  the cost of the plan you choose.
From email addresses to behind-the-scenes technicalities (like domain registration and website hosting services) everything is wrapped into your single monthly service plan with no extra fees or surprises.
We'll focus on running your website so you can focus on running your ice cream shop, and we're just an email away if you need anything.
Every Leads Grow Revenue's Website Setup Includes:

Custom-Designed Pages
Including your home page, a menu with photos, an about page, directions to your location, and a contact page.
Choose at least one optional page for your website: A blog, calendar for upcoming events or sales, or join our team page, or a menu for products other than ice cream.

Professionally-Written Content
We'll take your bullet points and create messaging that makes people rush into your ice cream store. Our professional writing, photo curation, and expert Search Engine Optimization ensure customers will fall in love with your brand.

Unique Branding Specific To Your Ice Cream Store
Your website will be fully customized with your logo, color palette, pictures, and content. While we use templates to keep our rates competitive, your ice cream store website will be customized to look uniquely yours.

Demo Site During Design
If we're rebuilding a website for you, your current site will stay live while we build your new design, so your guests will never see a frustrating "coming soon" page.

Monthly Analytics Reporting Setup
Each month you'll receive a detailed analytics report via email. It will show how many people visited your website, and provide insights into where traffic comes from, and what parts of your site visitors are most interested in.

Explaining How To Access Our Service & Support
Both your visitors and Google value websites that are properly optimized.
Your monthly service package includes behind-the-scenes tech support, design time from our team, and the confidence that your website will be your 24/7 sales person.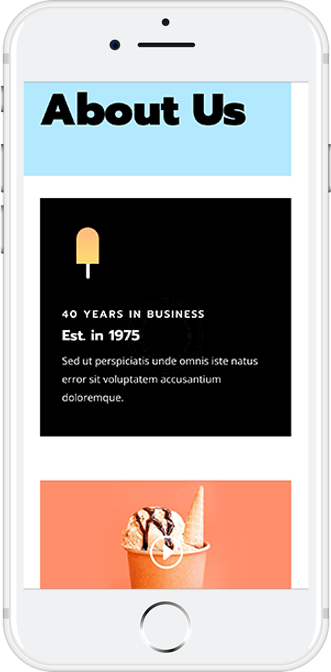 Keep Your Website Up-To_Date & Fresh
Our monthly service includes 60 minutes of design time from our team every month so as your business changes, your website will adapt too:
Add a new flavor ????????????????????????????????
Adjust your business information…. seasonal hours
Get new photos taken of your business and products
Adjusting your menu pricing
We also keep your website's software and security measures updated behind the scenes. Your customers will always get the best experience on any device they're using.
YOUR ONGOING MONTHLY SERVICE ALSO INCLUDES:
Domain name purchase & annual renewals
Submission to major search engines
Monthly hosting on secure off-site servers
Ongoing security (anti-virus, anti-malware, etc.)
Detailed monthly Google Analytics reports
Daily off-site website backups
Monthly security & software updates
Content updates (up to 60 minutes/month)
Ongoing technical support & monitoring
Assured ongoing compatibility with the latest current browser versions of Firefox, Google Chrome, and Safari
Integration of third-party online ordering if needed
Domain-branded e-mail addresses are available for an additional $5/month per address.